In a country of 1.3billion people, one sees a funeral or cremation often. What India saw on 16th January was something quite different. It was a tigress on a wooden pyre, in her eternal slumber, and villagers and forest department staff paying their last respects.
Collarwali, a 16-year-old tigress from Pench Tiger Reserve, Madhya Pradesh, was covered with a white cloth and rested on a wooden pyre. T-15 was her given number, but she was popularly known as Collarwali among photographers and Mataram among local people, she was the Queen of Pench. She raised 29 cubs in eight litters. The accompanying photo shows a tribal lady from the local village paying homage to the tigress they loved and revered.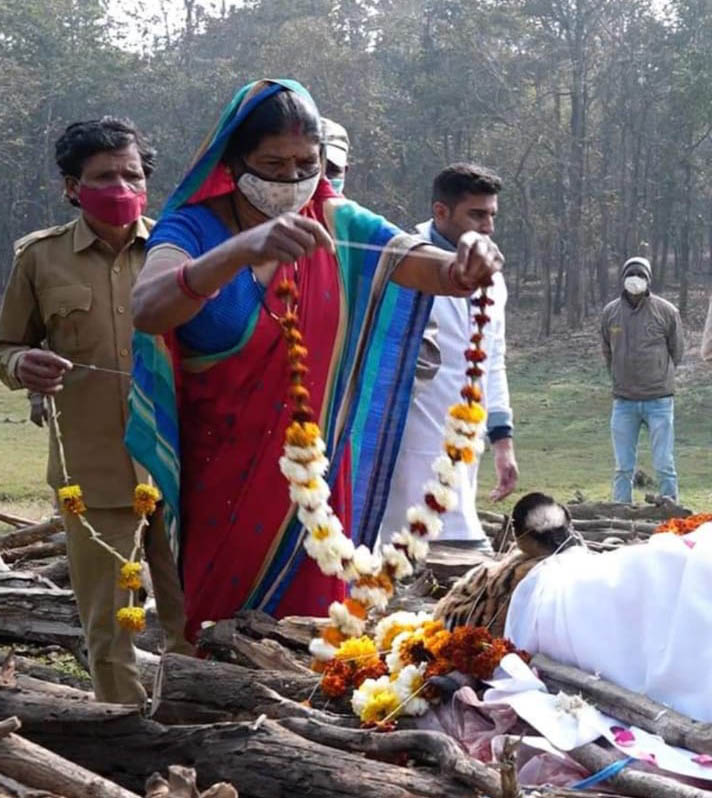 A local village lady paying last respects to Collarwali © Madhya Pradesh Forest Department
The news of Collarwali's death came on Saturday, and, on Sunday the print media, electronic media, and social media were abuzz with people from different walks of life remembering her. She was loved deeply and widely.
On Sunday, 16th January, Collarwali was cremated in Pench, the rituals were performed by Shanta Bai, a local tribal lady. Respect came from the Chief Minister of Madhya Pradesh, who termed the dead tigress as Super Tiger Mom and the Queen. Someone also wrote about her contribution for sustaining a good tiger population in the region will forever be remembered.
People gathered around her with garlands and flowers to pay their reverence, speaks a thousand words about the deep-rooted ethos that India wears in her heartlands.



Collarwali on the pyre © Madhya Pradesh Forest Department
She was fitted with a radio collar at the age of four, which gave her the name, Collarwali. Out of the 29 cubs that she mothered, 25 survived. On average, a tigress gives birth to two to four cubs per litter, every two years. Collarwali gave birth to five cubs in one litter and raised all those. Many tigers in Pench and Central India have genes from this tigress supermom.

Her incredible journey in raising so many cubs also speaks about the excellent quality of habitat and prey, also corroborated by forest officers.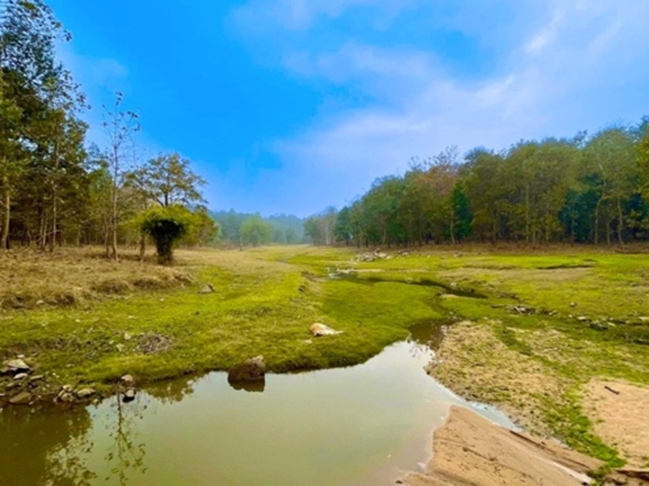 A stream in Pench Tiger Reserve, where Collarwali was found lying on 14th January, before she was taken for treatment and monitoring. She died on 15th January 2021 © Madhya Pradesh Forest Department