Tsewang Norbu is among the many villagers in Matho, who, in September 2015, took possession of one of the special predator-proof corrals, constructed and handed over to members of the local community by WWF-India and the Department of Wildlife Protection, Jammu & Kashmir. These new corrals would safeguard villagers' livestock from snow leopard attacks. This, in turn, would help prevent the killing of snow leopards by angry herders in retaliation to attacks.
SURVIVING IN THE HIMALAYAS
High up in the Himalayas in Ladakh, where food and water resources are scarce, survival is an everyday battle for local communities. With agriculture possible only for a short period of four months in these cold desert regions, people depend heavily on raising cattle for their livelihood.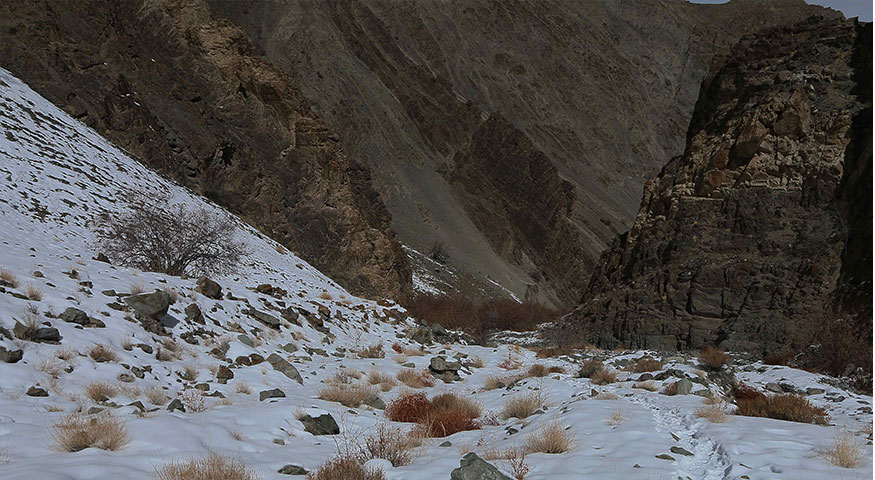 To reduce this stress on the local communities as well as on the wildlife in this region – and to manage human-wildlife conflict, WWF-India along with the Department of Wildlife Protection, Jammu and Kashmir, formally handed over 14 predator-proof corrals to the local communities of three villages in Ladakh – Tuna, Matho and Yangthang. The villagers now own and maintain these specially designed enclosures that provide full protection to their livestock from snow leopards.
THE REASON FOR HUMAN-WILDLIFE CONFLICT
Shy and elusive by nature, snow leopards typically keep away from human habitation, confining themselves to the higher altitudes of the Himalayas. However, as the animal's prey base and habitat is getting increasingly and directly affected by human activities, snow leopard attacks on domestic animals such as yaks, cows, dzos, sheep and goats, have become more frequent in the past few years in Ladakh. According to studies conducted by WWF-India in the past decade, attacks on livestock by wild predators such as the snow leopard, black bear and wolves have increased sharply, leading to increased conflict between humans and snow leopards in the region.
MANAGING CONFLICT WITH ECONOMICAL AND SMART CORRALS
Smartly designed and constructed by WWF-India's experienced field team in consultation with local communities, the corrals are not only structured to be predator-proof but are also gradually reducing villagers' resentment towards the predator and making local communities more optimistic.